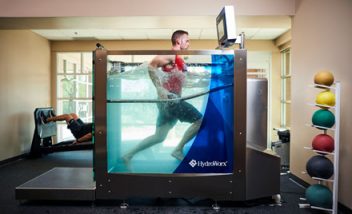 Whatever the health challenge, our HydroWorx Therapy pool can help
Our pool is designed to be very versatile so that we can treat a wide variety of specific health conditions using underwater therapy for arthritis therapy, sports injuries, post-surgical rehab, and chronic pain relief. Below are just a few of the conditions we can help rehabilitate.
Clinically Proven Solutions
There are a number of orthopedic conditions that respond well to aquatic therapy. Here is a partial list:
Older Adults: Positive outcomes have been reported by middle-aged and older adults after a five week course of exercise on a HydroWorx aqua therapy treadmill included decreased joint pain, improved sleep patterns, greater flexibility and an overall improvement in physical and psychological wellbeing. The trial, which included 14 adults with a history of physical ailments, was conducted at the University of Wisconsin's Department of Kinesiology.
Overweight/Obese Adults: A study of 57 overweight men and women conducted at Texas A&M University's Department of Health and Kinesiology found that underwater treadmill therapy reduces the risk of injury and perception of effort in overweight users, while contributing to improvements in aerobic capacity and body weight.
Post-surgery Recovery: Athletes recovering from ACL reconstruction surgery were found to have faster recovery times and less incidences of re-injury when underwater therapy was incorporated into their rehabilitation.
Osteoarthritis: A study by Utah State University Health, Physical Education and Recreation Department concluded that patients diagnosed with osteoarthritis may receive the same aerobic conditioning with less joint pain and greater improvements in mobility by utilizing underwater treadmills as opposed to land treadmills.
A Safe & Comfortable Rehabilitation Option
Aquatic therapy is one of the safest, most comfortable treatment options a physical therapy patient will ever experience.
For those who struggle with traditional land-based therapy, aquatic therapy a great treatment opportunity. Patients need not possess swimming skills to benefit from aquatic therapy. Treatment can be performed in sitting and/or standing positions.
Common benefits of aquatic therapy are:
Decreased Pain
Improved Range of Motion and Flexibility
Improved Strength and Aerobic Endurance
Improved Walking Skills
Improved Confidence and Mental Status
Aquatic therapy takes advantage of:
Buoyancy - it eases the stress on your muscles and joints.
Temperature - the warm water soothes and relaxes the body.
Viscosity - the "thickness" of the water provides gentle resistance.
Turbulence - moving water gently challenges the body to maintain balance and control.
Hydrostatic Pressure - this pressure provides natural relief of joint swelling.
What the patient will need:
Swimsuit
Aqua Shoes
Towel
Cap (optional)
Our staff are specially trained to provide you with an individualized aquatic therapy treatment program. Aquatic therapy is covered by many insurance plans.
Our HydroWorx 200 Aquatic Therapy System
The HydroWorx 200 Series is the benchmark for self-contained, construction-free underwater treadmill devices. Utilizing warm water therapy as a medium to enhance rehabilitation and performance through water's buoyancy, resistance and hydrostatic pressure, this advanced hydrotherapy system provides the ultimate rehabilitation advantage.
Designed to provide convenient upright hydrotherapy treatment, the functional design of the HydroWorx 200 Series has all the features required for effective therapy, rehabilitation and fitness.
The HydroWorx 200 Series features jet resistance technology and an underwater, anti-gravity treadmill. The jets provide you with a deep tissue massage, while the standalone underwater treadmill gives you the ability to burn even more calories than you would through traditional rehabilitative exercise.
With the HydroWorx 200 Series, you have all the benefits of running on land, without additional impact and stress on your joints and muscles. With this level of support, you can rest easy knowing your rehabilitation and exercise program is a safe way to avoid the risk of additional injury.
In three minutes, the tempered-glass case of the HydroWorx 200 Series fills with water. Because of this speed, your physical therapy session can begin quickly and efficiently.
Give us a call today to learn more!